Class Schedule
Here at Daryl Jervis Dance Studio we offer a wide range of classes in many different types of dance to students of various ages. Use the schedule below to find the right class for you and/or your child.
Now taking pre-registration for our 2022-2023 Fall/Winter Session!
CALL TODAY TO SIGN UP FOR SUMMER CLASSES AND CAMPS!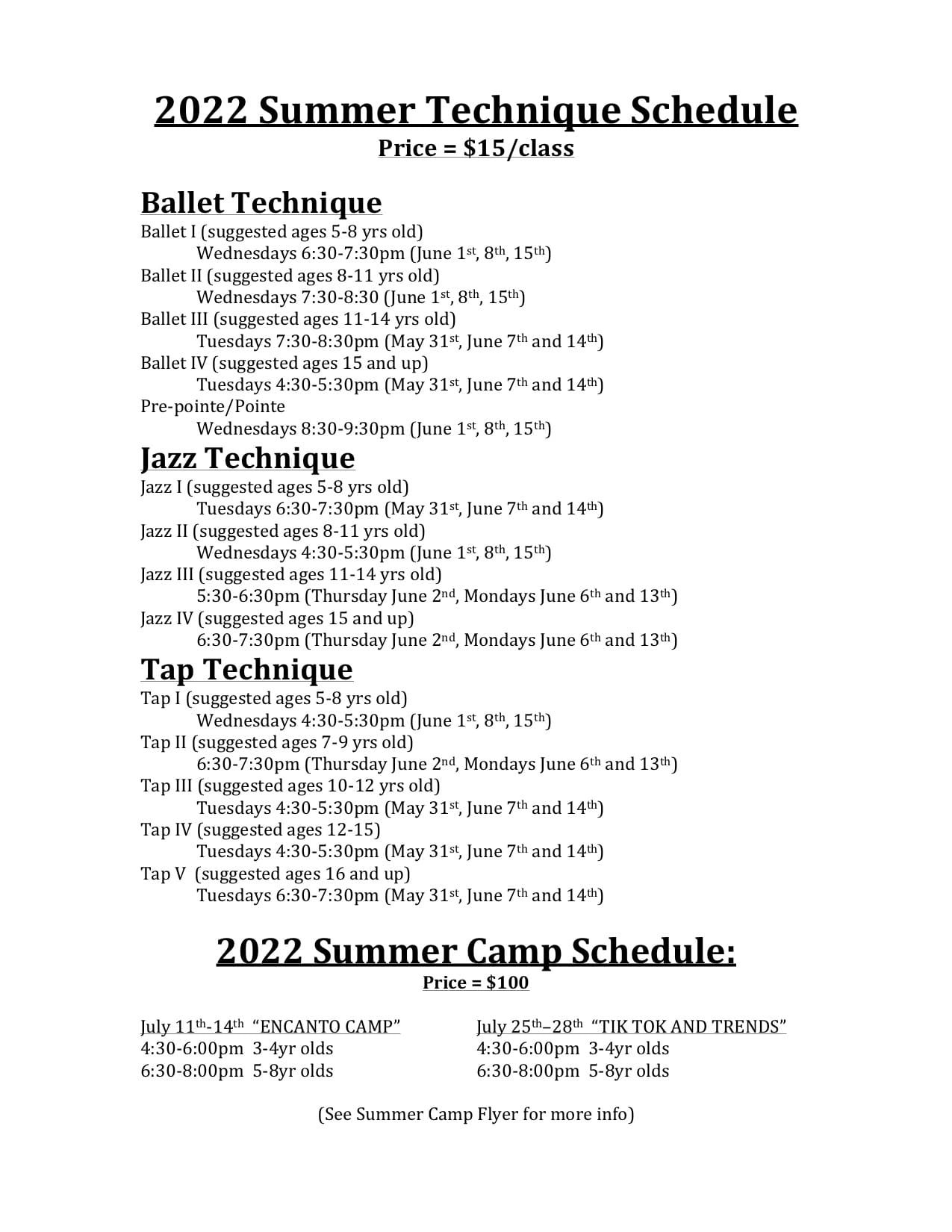 **Note:  Encanto Camp for 5-8 year olds is now CLOSED.** 
We are now only accepting dancers for a waitlist. 
All other camps still have availability.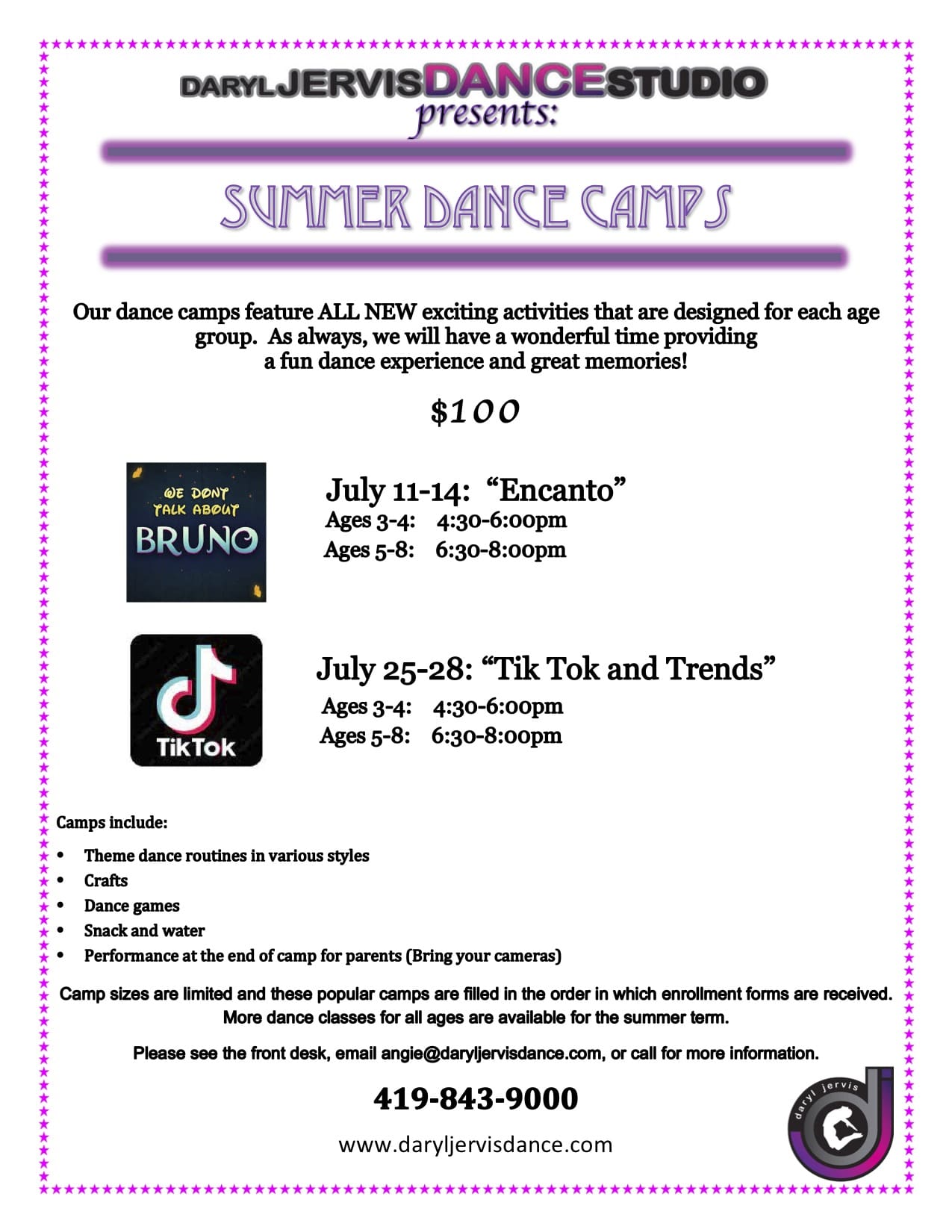 Below is our 2021/2022 Winter/Fall Schedule and Pricing: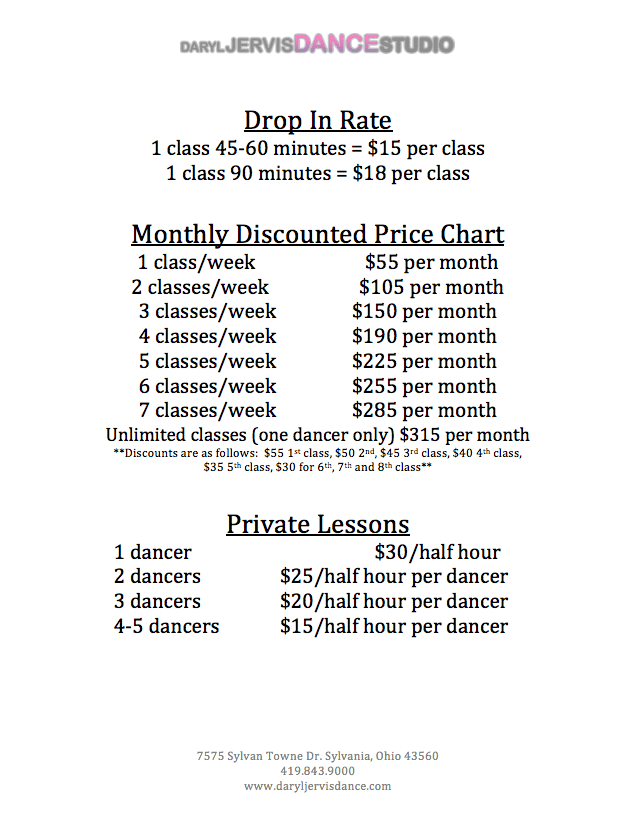 2021-22 Fall/Winter Classes
Combination Classes
Age/Group
Date/Time
2.5 - 3 yr olds
Tap/Ballet
Wednesdays 4:30-5:15pm - Studio 1,2
Saturdays 9:30-10:15am - Studio 1,2 **waitlisted**
3.5 - 4 yr olds
Tap/Ballet
Wednesdays 5:00-6:00pm – Studio 1,2 **waitlisted**
Saturdays 10:30-11:30am - Studio 1,2
4-5 yr olds
Tap/Ballet
Wednesdays 5:30-6:30pm - Studio 1,2 **waitlisted**
Saturdays 10:00-11:00am- Studio 1,2
5-6 yr olds
Tap/Jazz
Wednesdays 6:00-7:00pm - Studio 1,2
Saturdays 11:00-12:00pm - Studio 1,2


Jazz Classes
Age/Group
Date/Time
5 - 7 yr old Jazz
Thursday 6:30-7:30pm - Studio 6 **waitlisted**
8-10 yrs old Jazz
Tuesday 4:30-5:30pm - Studio 4
Thursday 5:30-6:30pm - Studio 4
10-12 yr old Jazz
Tuesday 6:30-7:30pm - Studio 6
Wednesday 6:30-7:30pm - Studio 5
13 yrs and up Jazz
Tuesdays 7:30-8:30pm - Studio 4

Adult Jazz/Lyrical
Wednesday 8:30-9:30pm - Studio 5
Jazz Technique Classes
Age/Group
Date/Time
Mini Jazz Tech
Thursday 5:00-5:45pm - Studio1,2
Pre- Junior Jazz Tech
Friday 6:00-7:00pm 5:30-6:30pm - Studio 1,2
Junior Jazz Tech
Friday 7:00-8:00pm - Studio 1,2
Pre-Teen Jazz Tech
Turns/Leaps: Fridays 4:30-5:30pm - Studio 4,5
Movement: Wednesdays 4:30-5:30pm - Studio 4
Teen Jazz Tech
Turns/Leaps: Mondays 4:30-6:00pm - Studio 4,5
Movement: Wednesdays 6:30-7:30pm - Studio4
Senior Jazz Tech
Turns/Leaps: Mondays 7:00-8:30pm - Studio 4,5
Movement: Thursdays 8:30-9:30pm - Studio 4
Tap Classes
| Age/Group | Date/Time |
| --- | --- |
| 5-7yr old Tap | Wednesdays 5:30-6:30pm - Studio 3 |
| 8-11 yr old Tap | Wednesdays 4:30-5:30pm – Studio 3 |
| 12 and up Tap | Wednesdays 6:30-7:30pm – Studio 3 |
| Adult Tap | Wednesdays 7:30-8:30pm - Studio 3 |
Tap Technique Classes
| Age/Group | Date/Time |
| --- | --- |
| Mini Tap Tech | Wednesdays 6:30-7:00pm - Studio 1 |
| Pre-Junior Tap Tech | Tuesdays 6:30-7:30pm - Studio 1,2 |
| Junior Tap Tech | Thursdays 5:30-6:30pm - Studio 3 |
| Pre-Teen Tap Tech | Monday 6:30-7:30pm - Studio 1,2 |
| Teen Tap Tech | Tuesdays 4:30-5:30pm - Studio 3 |
| Senior Tap tech | Tuesdays 6:30-7:30pm - Studio 3 |
Hip Hop Classes
Age/Group
Date/Time
5-7 yr old Hip Hop
Tuesdays 4:30-5:30pm - Studio 6
Wednesdays 4:30-5:30pm - Studio 6
Thursdays 5:30-6:30pm - Studio 6
7-9 yr old Hip Hop
Tuesdays 5:30-6:30pm - Studio 6
Wednesdays 7:00-8:00pm - Studio 2

9-11 yr old Hip Hop
Tuesdays 7:30-8:30pm - Studio 6
Thursday 6:30-7:30pm - Studio 3
12 and up Hip Hop
Tuesdays 8:30-9:30pm - Studio 6
Ballet Classes
Age/Group
Date/Time
5-7 yr old Ballet
Tuesdays 5:30-6:30pm - Studio 4
Thursdays 4:30-5:30pm - Studio 6
8-9 yr old Ballet
Thursdays 4:30-5:30pm - Studio 5

9-11 yr old Ballet
Thursdays 7:30-8:30pm - Studio 6
12 and up Ballet
Thursdays 8:30-9:30 - Studio 4
Ballet Technique Classes
Age/Group
Date/Time
Ballet Tech - Beginner
Fridays 5:00-6:00pm - Studio 1,2
Ballet Tech 1
Thursdays 6:30-7:30pm- Studio 1,2
Ballet Tech 2
Tuesdays 4:30-5:30pm - Studio 5
Ballet Tech 3
Tuesdays 6:30-7:30pm - Studio 5
Friday 6:00-7:00pm - Studio 5

Ballet Tech 4
Mondays 7:00-8:00pm - Studio 1,2
Tuesdays 7:30-8:30pm - Studio 5
Ballet Tech 5
Tuesdays 8:30-9:30pm - Studio 5
Saturdays 10:00-11:00am - Studio 5
Ballet Tech 6
Mondays 5:00-6:00pm - Studio 1,2
Thursdays 7:30-8:30pm - Studio 5
Pre-Pointe/Pointe
Pre-Pointe: Mondays 6:00-7:00pm - Studio 1,2
Pointe: Saturdays 11:00am-12:30pm - Studio 5
Lyrical Classes
| Age/Group | Date/Time |
| --- | --- |
| 5-7 yr old Lyrical | Wednesdays 6:30-7:30pm - Studio 6 |
| 8-11 yr olds Lyrical | Wednesdays 5:30-6:30pm - Studio 6 |
| 12 and up Lyrical | Wednesdays 7:30-8:30pm - Studio 6 |